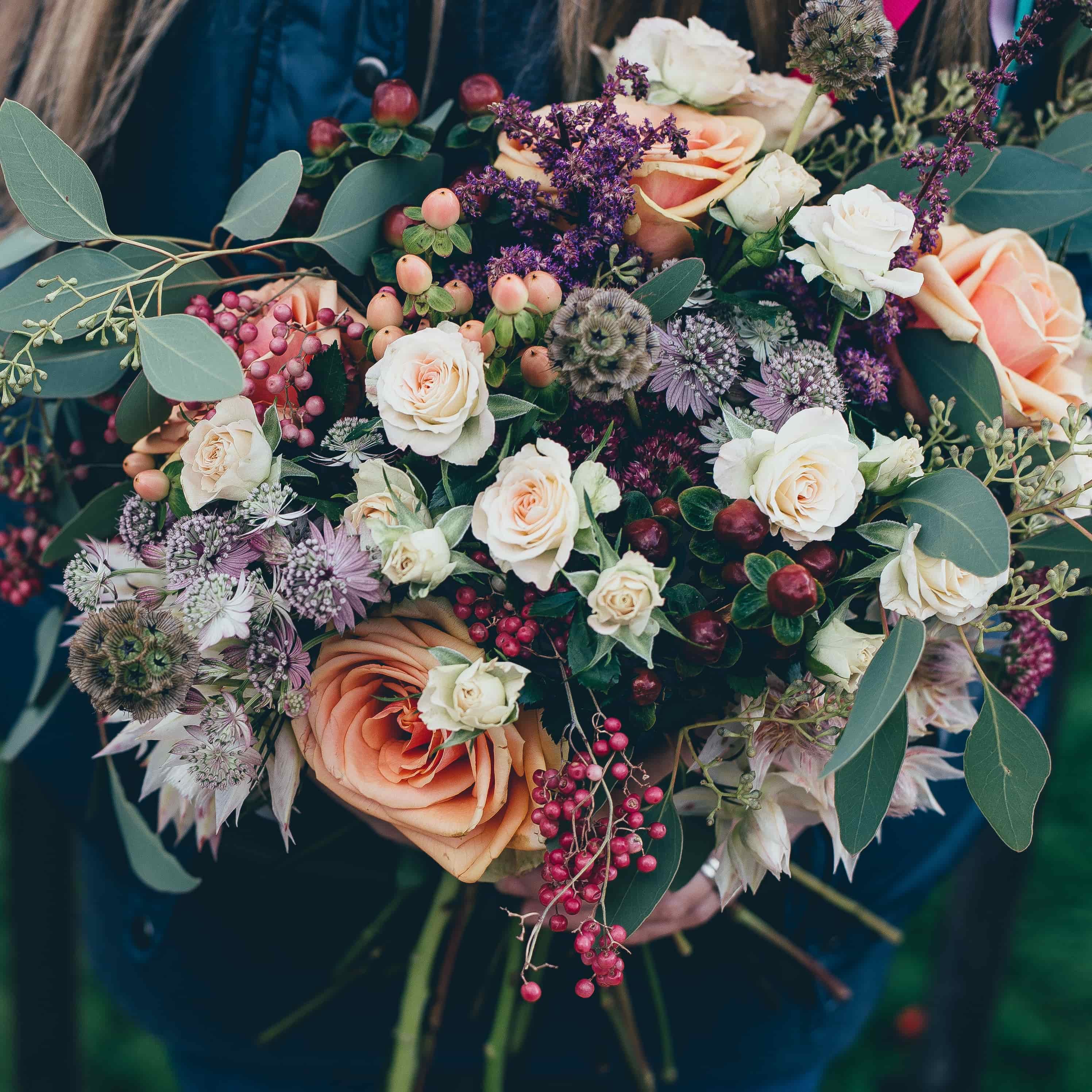 It may not be your first thought when organising a funeral, but choosing flowers can be a cathartic experience. If you know that the person who has passed had a favourite flower then it is great to start from there. For extended family and friends it can be hard to find the right words or to offer condolences when someone dies - in this case gifting flowers can be a great tribute and way of honouring someone's memory.
Which flowers are most popular at funerals?
Here are some popular funeral flowers in case you are stuck.
Lilies – Lilies are a quintessential funeral flower. They represent purity and a restoration of innocence, with the white stargazer the most popular variety.
Roses – These flowers work well alongside other flowers as well as leaves, berries and sprigs, in a larger funeral tribute or floral bouquet. They can add a variety of colour and meaning to a bouquet.
Chrysanthemums – Chrysanthemums are strongly associated with death, particularly in France where this flower is used to celebrate All Souls' Day, a day for the commemoration of the dead. The most popular colour variations are red, pink, and gold. In fact, chrysanthemum means 'gold blossom' in Greek, and this flower symbolises optimism and joy.
How should you arrange flowers for a funeral bouquet?
There are a number of styles that flowers can be arranged into for a funeral. Often people pick a number of bouquets to dress the funeral. Sometimes a family will pick a casket spray - a specific floral shape for the top of a coffin.
Of course, the most distinct flower arrangement for a funeral is the floral tribute. Tributes are often personal to the deceased, can depict something specific about them, or signify who they were. These centrepieces are usually displayed prominently in the procession (in the window of the hearse for example).
A final option you may like to consider is the funeral wreath. A funeral wreath is a circular arrangement of flowers that can often come as a gift or purchased when arranging a funeral. These wreaths are also displayed with the coffin.
Where should I get funeral flowers delivered?
It is key to either deliver the flowers to the funeral director or to the families residential address. A funeral director will always be around during office hours to receive the delivery. Delivering flowers here also allows them to be kept with a coffin and the funeral director can take charge of setting up for the funeral.
It is better not to send flowers to a church or crematorium as these places may not always be able to receive them and there is a chance that the flowers could get damaged or lost.
Can my funeral director arrange flowers on my behalf?
Yes! Most funeral directors will be able to sort floral arrangements so don't be afraid to ask them directly.
How can I gift flowers to a family?
Our Guardian Angel Support Hubs can be used to gift flowers. This makes it easy and reliable to let the family know your condolences for their loss.
What gift could I give at a funeral instead of flowers?
It should be noted that sometimes it is requested that no flowers be gifted. In these cases, often there will be a donation box to a specific charity - you can show your love by donating to this charity instead of sending any flowers.
Some people are worried that a floral gift is too temporary. You could consider giving a potted plant instead - these flowers last longer, but remember there is a responsibility associated with looking after these flowers.
The best gift may be to ask the family how you can help out during the weeks and months following the death. Perhaps doing a grocery shop, cooking a meal or helping with an errand would be really helpful. This is a great way of letting a lost one's family know you are thinking of them.